AxxonSoft Unveils Latest AI Video Analytics and Integrations with Drones and Cyber Dogs at ISC West 2023
04/11/2023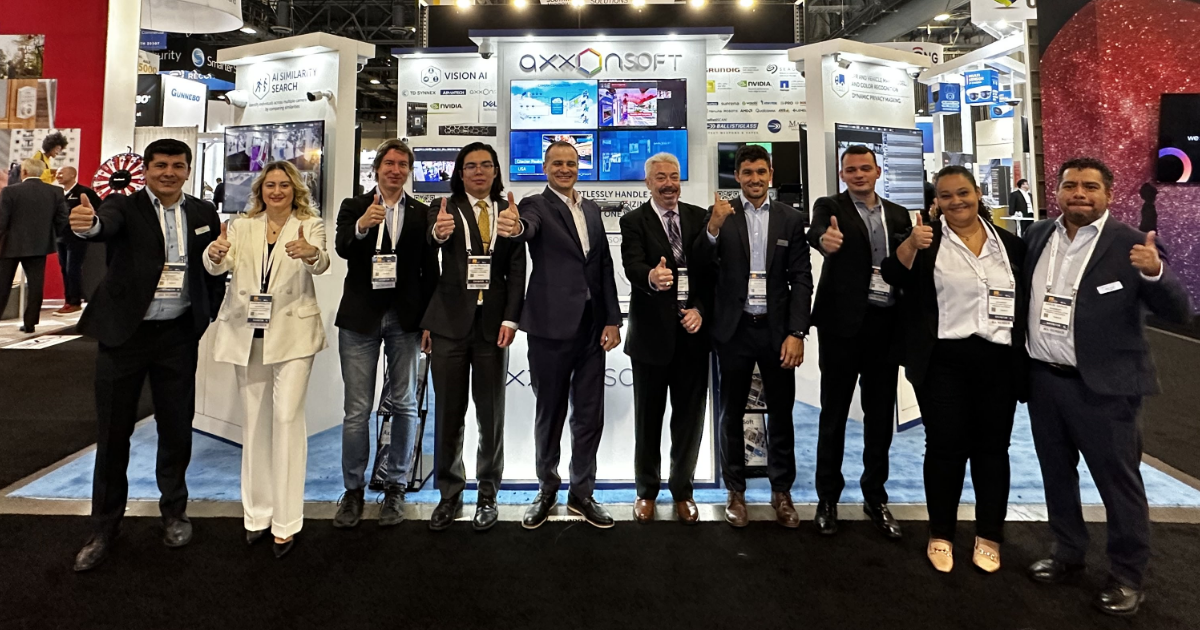 AxxonSoft participated in ISC West 2023, the largest security industry trade show in the U.S., showcasing our advanced Axxon One video management system (VMS) with impressive capabilities. We demonstrated our latest AI video analytics features in action, such as AI similarity-based search for people in multi-camera video footage, vehicle make and model recognition, and dynamic privacy masking. The masking is based on an intelligent, resource-optimized algorithm that reliably masks objects in the camera's FOV while using minimal computing power. It is also possible to apply AI detection to mask only specific objects, such as people.
AxxonSoft also highlighted its collaboration with leading software and hardware vendors to develop innovative and cost-effective integrated solutions. At the show we presented our joint VISION AI campaign with NVIDIA, TD SYNNEX, Advantech, and Dell Technologies. VISION AI is a pre-validated, turnkey hardware and software bundle that includes NVIDIA-certified hardware and AxxonSoft's Axxon One video management software (VMS). The solution targets applications that require video analytics such as object recognition, classification, and detection for customers deploying in smart spaces, including retail, manufacturing, transportation, and cities. Vision AI delivers exceptional performance using the latest GPU acceleration technology and reduces cost and time to market for customers, creating an "easy buy" experience.
We announced our new concept that is the evolution of AxxonSoft's quick search feature. We introduced smart cameras with direct and seamless cloud connectivity that allows for plug-and-play camera installation and metadata transfer from the camera's on-board analytics to the cloud-based VMS, enabling instant search of footage. As metadata is generated at the edge, fast search and analysis require fewer computing resources, reducing overall system costs.
Our camera-to-cloud approach supports video detection tools that analyze the scene and alert operators to significant events, reducing operator fatigue and increasing security staff efficiency. It includes features such as line crossing, object removal, area entry and exit, face and unattended bag detection, and other scene analytics. Detection of camera tampering, such as defocusing and lens blocking, helps quickly identify camera malfunctions and prevent unauthorized interference with the video surveillance system.
Check out our latest interview with SecurityInfoWatch.com where John Centofanti shares how AxxonSoft stands out in the industry with our focus on software and AI video analytics, strong partnerships with top companies like Intel, NVIDIA, Seagate, NetApp, and more, and unwavering support for our integrators.
The most memorable moment of the show was definitely the demonstration of our latest integrations with drones and cyber dogs, supported by the upcoming version of Axxon One VMS. This will provide customers with a bird's eye view and an extra set of eyes on the ground, enabling expanded capabilities to detect and respond to potential security threats.
Thank you to everyone who stopped by our booth at ISC West 2023! It was a memorable event, and we had a great time showcasing our latest security solutions. The outstanding success of this year's ISC West would not have been possible without the tireless efforts of our AxxonSoft team. Thank you for your remarkable teamwork and commitment to excellence!